SOS Sahel Responding to Sudanese needs resulted from Sudan crises
The humanitarian crisis in Sudan has peaked intensively since the armed conflict took place between the Rapid Support Forces (RSF) and the Sudanese Armed Forces (SAF) in April 15, 2023. 9 Million people were affected including over 800,000- displaced from their homes. Several other factors contributed to the dire need for humanitarian assistance in Khartoum and the other states where IDPs seeking safer place to live. The current conflict only adds up to an already deteriorating situation especially in Darfur and South Kordofan.
SOS Sahel Sudan received funding from IOM, DM-Aid, Mercy Corps and SHF to respond to livelihoods and WASH needs of the IDPs in Kasala, White Nile, North Kordofan and North Darfur States. SOS Sahel will continue seeking funding to respond to needs of IDPs in other states.
---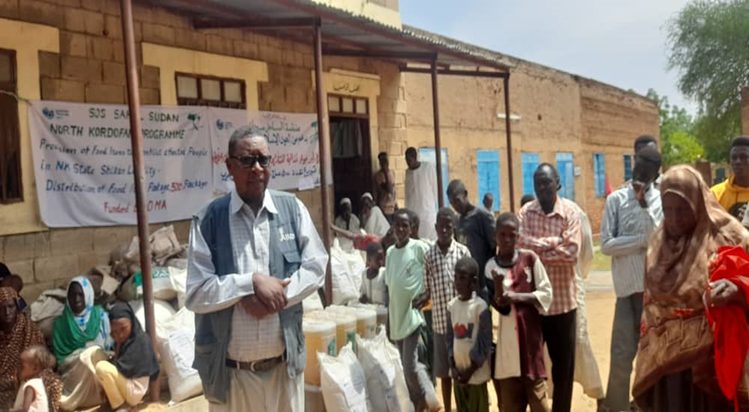 Project name: 2023-2-30 Food Assistance for vulnerable people in Sudan
Donor: Danish Muslim Aid (DM-Aid)
Budget: EURO 40,000
Beneficiaries: 500 poor households in AlObied, North Kordofan
SOS Sahel Sudan has managed to distribute food package to 500 HHs of IDPs from rural shiekan locality foced to flee to Alobied town. These were hosted in four schools (Badr, Saida Zainab, Abu Orog and  Umda Abdelaziz schools). The food package included (5 kg Wheat flour, 5 kg Rice, 4.5 liter Cooking oil, 5 kg Lentils, 10 kg Sugar and 1 kg Tea)
---
Project name: DRA – Acute Crisis Mechanism 2023
Donor: ZOA
Budget: EURO 54,088
Beneficiaries: Kutum IDPs hosted in Shools in Elfasher, North Darfur State
As part of JR4 consortium responding to people affected by Sudan crisis, the DRA Acute Crisis Mechanism has availed funds for food and other assistance to IDPs. SOS Sahel and ZOA hjas responded to Kutum IDPs in Elfasher town. The situation is very miserable and IDPs are hosted in schools. This assistance will be distributed in 3 tranches which will support them for 3 months. Below are photos of first distribution.