The General Assembly for SOS Sahel Sudan 2018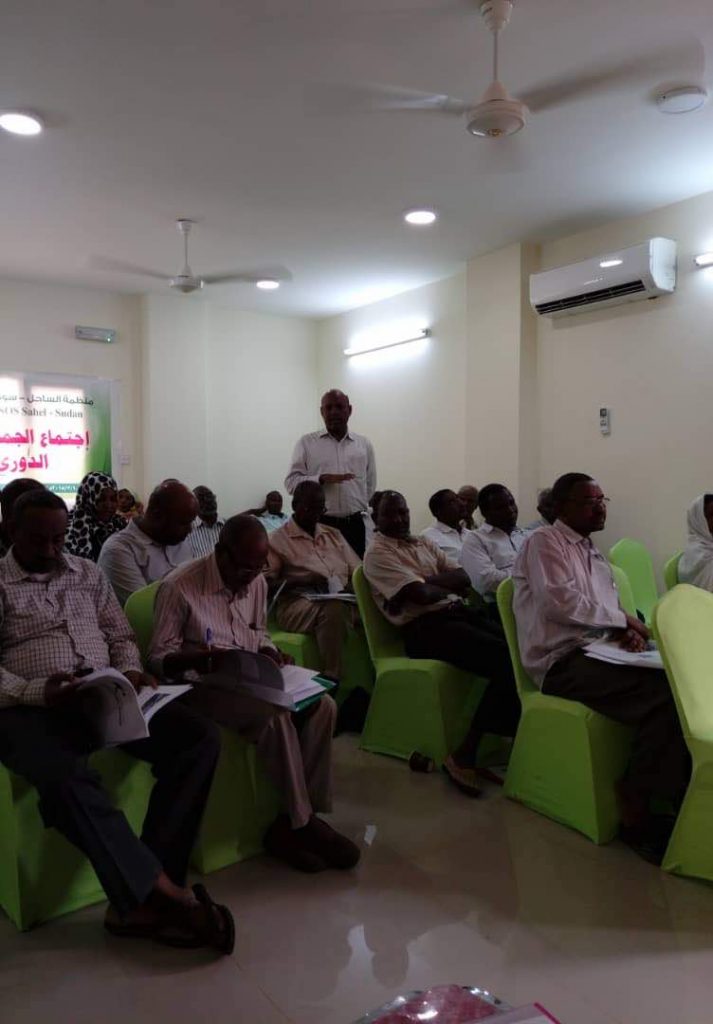 The General Assembly of Sahel Sudan held its annual meeting on 01/07/2018, in the office of the Organization of the Sahel Sudan.
The agenda of the meeting was to read and discuss the WMO Performance Report for 2017 for the purpose of briefing members on the activities and performance of the Organization, renewing the license and selecting a new Board of Trustees (Executive Committee).
The program was opened by the Holy Qur'an followed by Mr. Suliman Haroun. The Chairman of the Executive Committee, Dr. Abdul Majeed Mohammad Yahya, delivered a speech in which he welcomed the representative of the Humanitarian Aid Commission and thanked the attendance of the members of the Association and valued their efforts and their participation in the programs of the Organization. The position of the Humanitarian Aid Committee in support of the Sahel organization and its understanding of the great role it plays as an active national organization and institution. "We are delimited that this meeting is taking place at the headquarters of the Organization of the Sahel, which was built and owned by the Organization's exclusive resources, and that this indicates that Sahel Sudan is an active organization capable of working with the major donor partners , government institutions and beneficiaries. On their estimated effort and extends thanks to the Board of Trustees for his understanding of his message and must thank the partners and the Commission of Humanitarian Aid.
Executive Director Mr. Saleh Abdul Elmajeed Al-Douma thanked the Board of Trustees and their unlimited support, which contributed to this achievement through their work and their policies and all that would create a productive work environment, and thanked the colleagues in the executive management in all departments and projects and thanked all partners, A summary of the performance report and the situation of the audience in the picture is fully summarized with important and concise explanations and invited the two conferences to read the report.
• Members were given a period to read the report to make their comments
The procedural session ended with the passing of the report and the restoration of confidence in the old executive committee with the mandate of the three officers to complete the three complementary positions of the 15-member office