White Nile
Project Title:
Improving Water, Sanitation and hygiene promotion in Refugees camps in White Nile State (WNS)
Project Goal
To contribute to the wellbeing and livelihoods of the South Sudan refugees in WN state.

Project Objectives
1-     To increase access to the safe drinking water for girls/boys school and residents in the camps and hosted communities in Elsalam locality camps in WN State.

2-     To provide equitable access to sanitation and hygiene promotion services/facilities based on the Sphere and MoH standards for Southern refugees  affected by recent +fighting in South Sudan

3-     To ensure that beneficiaries in the targeted areas have the knowledge and means to prevent water, sanitation and vector–related diseases, and are mobilized and engaged in positive attitude and behavioral changes related to good hygiene practices

Targeted Beneficiaries
 South Sudan Country Refugees and host Communities in Alsalam Locality, White Nile
Project Duration
Jan.2019- Dec. 2019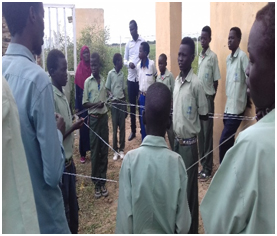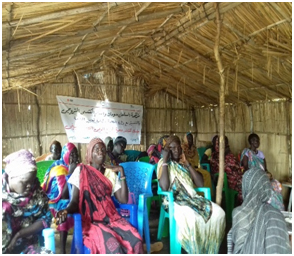 Implemented Activities:
Water: This activity aims to increase access to the safe drinking water for the refugees through Construction of water pipe lines extentions in the residential areas and schools and supplying chemical for raw water treatment like chlorine, and poly Aluminum chodide (PAC) next month for all water points.
Sanitation: This activity aims to support cleaning up campaigns in the camps through provision of garbage collection hand tools/materials and home to home visits in addition to construction of public latrines in collaboration with LAs and local Health services department. This activity used to be accomplished in collaboration with LAs and local Health services department
Hygiene: This activity aims to raise awareness of the targeted refugees in the camps to sustain the sanitary situation among the refugees' areas through training of Community Hygiene Promoters (CHP) and Health/Hygiene promotion sessions. It is carried out in collaboration with the MOH. Some materials used to be distributed during the awareness sessions like soap, bucket, and children kits, soap dettol and leaflet.
   Brief about the project:
This project has funded by NCA and implemented by SOS Sahel since 2017 with aim of provision support to SS country refugees in WNS to access them with the basic needs of WASH services/facilities to improve their live situation in the camps. There are some NGOs working in the same refugees camps and some coordination was there between all actors to efficiently efficiency optimize the resources provided. UNHCR is the coordinator of Refugees concerns in the State. They used to held coordination meeting in regular base to keep monitored the services and facilities provided to the refugees and to organize the proposed intervention. In spite of SOS Sahel is a development oriented organization but still one of its objectives is to provide support of emergency projects to the needy people where it is operating.
Water points construction in the camps school